Honda of America Mfg. selected a site near Anna for its engine plant in 1985. Today, the giant facility, barely visible through the west central Ohio cornfields, employs 2,300 in production of auto and motorcycle engines, brake and suspension components and transmissions.

What Honda liked about Anna was its location on I-75, its peaceful rural atmosphere and the reputation of west central Ohio for providing versatile, loyal, hard-working employees.

Since Honda's arrival in Marysville, Anna and East Liberty, hundreds of suppliers have flocked to Ohio to feed the three plants with parts and components. In Shelby County alone, over 20 suppliers have located to serve Honda.

Anna is a village of just 1,200 people. It is a quiet town that has long served as a bedroom community for larger cities like Sidney (pop. 20,000), the county seat, which is seven miles away, or Lima, 25 miles up the interstate. The large soybean processing facility operated by Cargill signals the importance of agriculture in this corn-soybean-wheat farming community. But for Honda, it might be just another ordinary farming town, with nothing to stop the 28,000 vehicles that pass by on I-75 every day.

But in recent months Anna's civic officials have put in place all the necessary infrastructure to support new business growth. To wit:
A new sewage treatment system, with 400,000 gpd capacity, has just come on line. Current usage is only 110,000 gpd.
A new water supply system has a capacity of 290,000 gpd; current usage is less than half of that.
Tax abatements for new businesses were installed. The entire Village is designated a Community Reinvestment Area, meaning that property owners who renovate existing facilities or construct new ones benefit from the direct property tax exemption program. Anna's commercial and industrial parks are in an Enterprise Zone.
Zoned industrial and commercial sites, serviced with water, sewer and utilities, are available. They include over 25 acres of developed land in Interstate Industrial Park, which has a 40,000 sq. ft. spec building available. Another 46 acres of undeveloped industrial land abuts the CSX railroad. On the east side of the interstate are 170 acres of industrial land, as well as several acres of commercial sites.
A new bridge over I-75 eases traffic into the village.
These elements enhance existing transportation and utility infrastructure. CSX serves Anna on its Cincinnati to Detroit line, and Rail Tex parallels the CSX line through Anna. Conrail's mainline runs east-west through the county. Dayton Power & Light supplies electricity, and there are two natural gas suppliers -- Dayton Power & Light and East Ohio Gas -- in the village.
Anna has also put together the proper organizational structure to help new business and industry. The effort is led by Mayor Dale Locker, a well-connected former state legislator and former Ohio Director of Agriculture.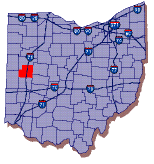 Profile of Anna
Location: West central Ohio, 45 miles from Dayton, 60 miles from Columbus
Population:
Anna: 1,200
Sidney: 19,238
Shelby County: 46,679
Transportation:
Road: On I-75
Rail: CSX, Rail Tex
Air: Dayton International, 45 miles
Employment Mix (Shelby
County):
Manufacturing: 54%
Trade: 14%
Services: 13%
Major Employers (Shelby County): Honda of America Mfg., Airstream, Alcoa/Stolle, Eagle-Picher Industries, Emerson Electric/Copeland, Findlay Industries/Wapakoneta Products, Gilardi Frozen Foods, Masland Industries, Plastipak Packaging
Incentives: Community Reinvestment Area and Enterprise Zone property tax incentives.
Education and Training: Edison Community Colleges offers courses in Anna; Upper Valley Joint Vocational School. 13 colleges and universities within a 50-mile radius.
Medical Clinics: 2